Everything You Need to Know About Ameda Pumps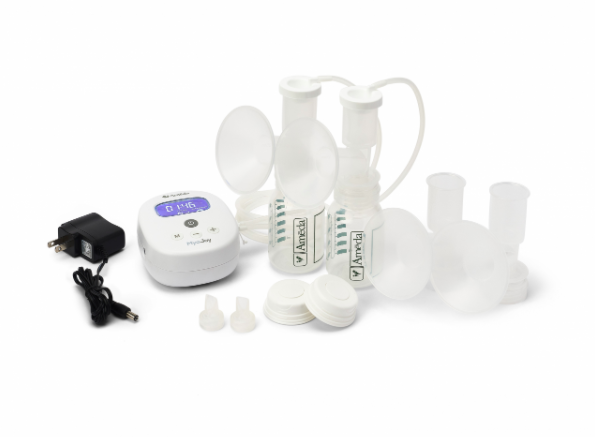 Everything You Need to Know About Ameda Pumps
We are excited to tell you about two pumps that we carry on our site – the Ameda Mya and the Ameda Mya Joy. Both are fabulous choices for any pumping mom, but we're here to tell you a little bit more about them.
Ameda Mya
The Ameda Mya is a breakthrough hospital strength portable breast pump that is compact without compromise. Mya is small, super lightweight, ultra-quiet, and can be operated by a rechargeable battery.
For any mom who wants hospital strength pumping without the weight of dealing with a huge, heavy pump, Mya is the best choice. It offers moms a convenient, safe, discreet way to provide their babies vital nutrition with a new level of freedom.
The key features include:
With a .5 LB pump body that fits in the palm of your hand, Mya has an ultra-quiet, electric motor that operates at less than 45dB for better privacy when pumping on the go
No outlet, no problem; with a built-in, rechargeable battery, get two hours between charges so you can pump on-the-go with no extra batteries or power adapter
True Closed Protection System helps to prevent breast-milk from backing up into the tubing and pump to keep your milk free from contaminants
Since no two pumping sessions are the same, Mya allows you to personalize each pumping session thanks to a 2-Phase Adjustable Suction Mode with 10 unique levels of Expression Mode and 5 levels of Massage Mode
Ameda Mya Joy 
When moms need a reliable pump with versatile features, safety, and comfort, they choose the Mya Joy. This hospital-strength breast pump offers the best value for moms who are looking for a convenient pumping experience with adjustable settings for single or double pumping.
Powerful , lightweight and quiet, the Mya Joy also features the world's only FDA-cleared pump kit that helps protect breast milk from contaminants, known as the HygieniKit. This pump delivers on the ultimate promise of comfort for pain free pumping by offering a wide range of settings, mom-friendly features, and flange sizes. Whether pumping on-the-go, at home or at work, Mya Joy offers pumping without compromise with its travel-ready size that's compact, light and portable.
The key features include:
Hospital strength performance with two modes of pumping
Battery-operated, lightweight, and clips right onto a waist band, purse pocket, or favorite yoga pants
Wide range of suction and speed settings, functions, and flange sizes
Operates at less than 45dB and allows for discreet pumping anywhere
Ameda's HygieniKit true closed system not only helps protect breast milk from backing up into the tubing but also prevents the system from potential contaminants like bacteria, viruses, and mold growth
Choosing the right breast pump is a personal choice for moms. We have also reviewed the Spectra, Medela, and Elvie pumps!
At Insurance Covered Breast Pumps, we know that the pumping life is mom life. And we want you to be successful!
See if your insurance will cover one of our brand name breast pumps by clicking here and follow our Facebook and Instagram for more pumping tips.